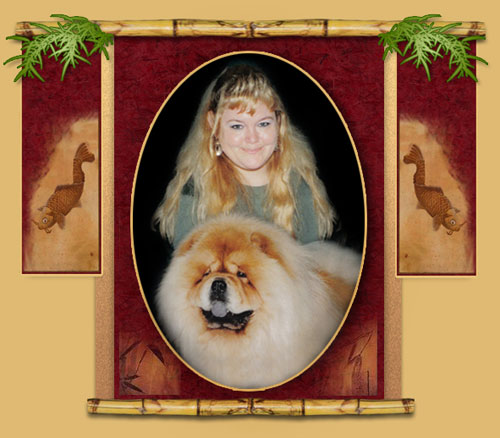 In 1985, my future in chows began. My boyfriend took me to the local pet store and we instantly fell in love with this red ball of fluff. Thus began our addiction. Kuda, as we named her lived to be 9 years old.

We acquired a shaded red male from a chow BYB (back yard breeder) located in Kirkland Washington. The dogs were in cages and you couldn't even approach the parents. (Oh what I didn't know then!) We went ahead and purchased Nicko. He had 64 CH in his pedigree. For $300 I thought I had an awesome show prospect. Ha! Was I ever wrong.
We were laughed out of the ring at our first dog show. A nice lady politely told me to neuter him. After seeing "correct" type, I neutered my pet "type." Nicko lived to be 5 years old, and had to be put down due to severe Hip Dysplasia, and Eye Entropion.
In 1990 I acquired my first show chow. Thus, began the beginning of Chrisma Chow Chows. I have always been actively involved in the rescue and placement of chows. It is a sad job, but as a breeder it is something that must be done.
I seldom breed, usually for something new to show. I never breed for profit. A lot of time and research goes into each breeding. The chow breed has enough health problems without adding to them. I strive for temperament first, balance and structure next. I am very picky about who gets one of my puppies, and require candidates to have references available.
If we as humans are going to interfere with mother nature then we should make sure that it is only with the best possible specimens. Do you know the chow standard? Do you know what the faults of the chow chow are? The chow is supposed to be a medium sized breed, and the standard states that balance should take precedence over all.
Please make sure that you visit as many chow kennels before deciding on that irresistible ball of fluff. I have experienced a lot of heartache in my years and am just trying to save you some. Please make sure you can pet and touch the parents. Do all the research possible, talk to breeders, read books, visit chow info sites on the web.
Make sure you have the time, patience and knowledge before you decide upon a chow. Make sure you are willing to comb out the mats and dead shedding hair. No, you cannot shave the chow, it will just embarrass them, and makes them more susceptible to heatstroke and sunburn. The coat is there to keep them insulated against the heat and cold weather.
Make sure you are willing to work with the chow to keep it socialized and happy. Then and only then, will you know what it is like to be owned by a chow chow, and to have a wet, blue kiss bestowed upon you. Please email me with any questions or concerns, I will always be happy to help.
Please feel free to sign my guest book so I will know you visited!

Thanks, Sherrie